2019/2020 market conditions offer a whole range of challenges as well as great opportunities for the astute investor to profit handsomely. It is a very good time to reap high yields from the right type of property development if you are clever about your approach. To succeed any development must start with the correct strategy but just as importantly it must also be executed in the right manner. Dual Occupancy is the most common and most well received type of unit development in metropolitan Melbourne. First time investors should strongly consider the safety of a simplistic development like this but to profit in this market they must execute it very well.
At House Design Solutions we feel "the art is in the buying" as we often see failed developments that were doomed before they started due to unrealistic expectations based on a poor initial purchase choice. We have helped enough struggling investors dig their way out of a hole to know what not to do!
We currently have a catalogue of off-market sites where it is possible to not only buy below market price but just as importantly agree to favourable terms. Over the years we have helped many of our clients profit from unit development, each in their own way based on their particular aims and aspirations. Two Duplex SIDE by SIDE family homes in the right suburb on property originally purchased at the right price is a very good starting point.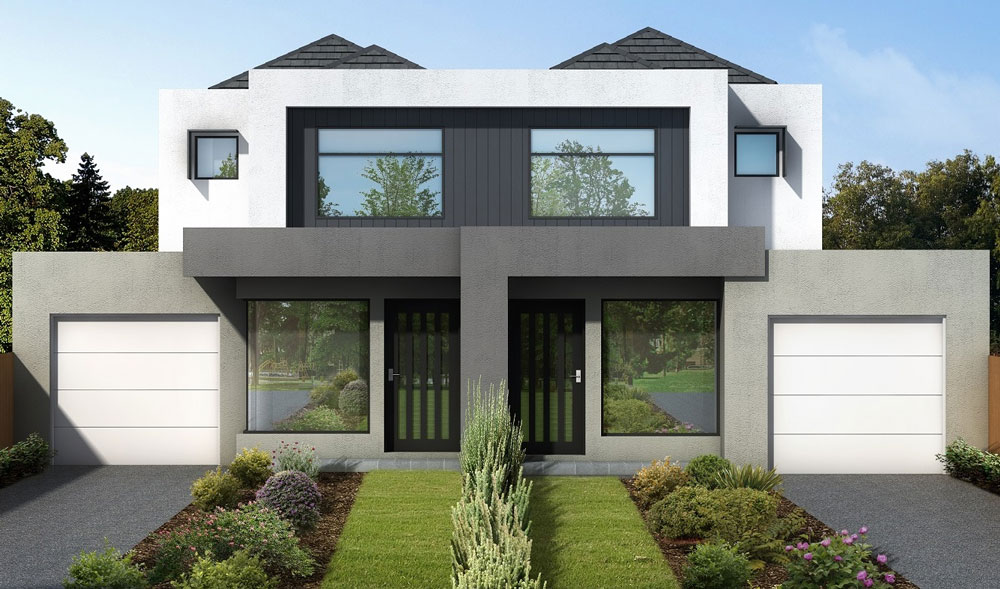 Next is to plan and build for optimum returns. House Design Solutions will design the most appropriate solution for any given site; beyond this we have access to construction that is customised to suit the particular circumstance. Below retail price, high quality construction, offered in a speedy fashion will make all the difference to any bottom line. Time is money and knowing the right builder for the job is our single biggest contribution to any project. Over the years we have built up a network of fine builders, each with their particular styles and strengths. These builders may not be at the top of the tree for marketing or for having the best websites but certainly perform their best work "On-Site". Most builders we introduce are boutique, "hands on" and personalised, usually skilled tradesmen wearing a tool belt as opposed to a tailored suit belt. During the initial design process it will become obvious which of our experienced craftsmen is best suited to your particular circumstances. We will consult with them and utilise their obligation free expertise in order to offer you a builder ready to "pull the trigger" the moment your permit arrives.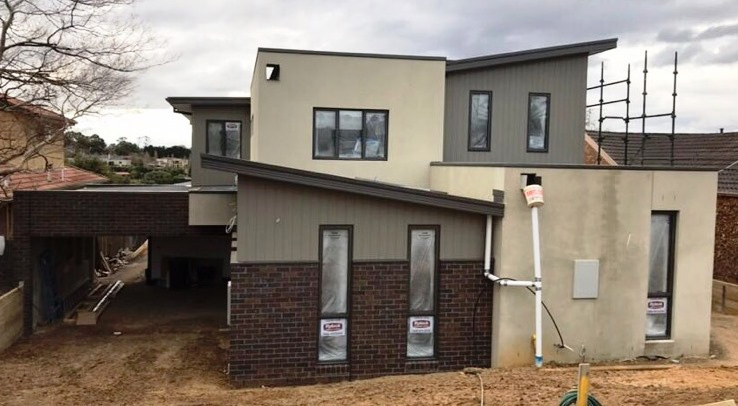 This house is currently under construction in Templestowe on a sloping site.
Nick the builder is an expert on these types of problematic sites. He even owns his own excavating equipment which lowers his price in comparison to other similar builders.
You will not find him on google, we found him 9 years ago and have been recommending his services for our projects most suited to his style with fantastic success ever since.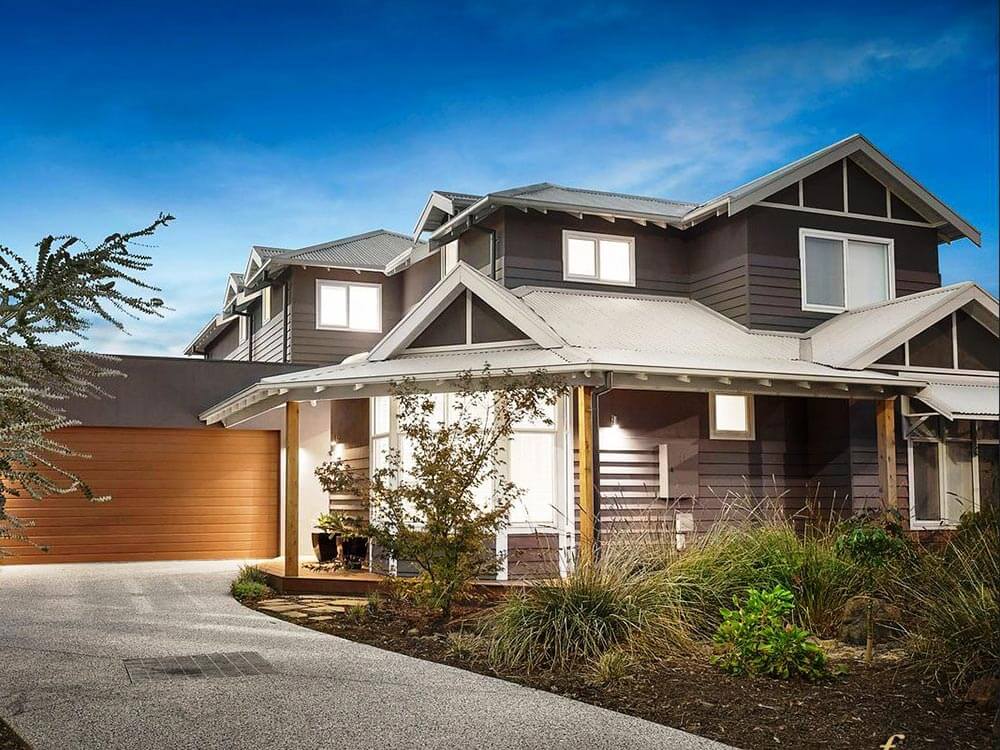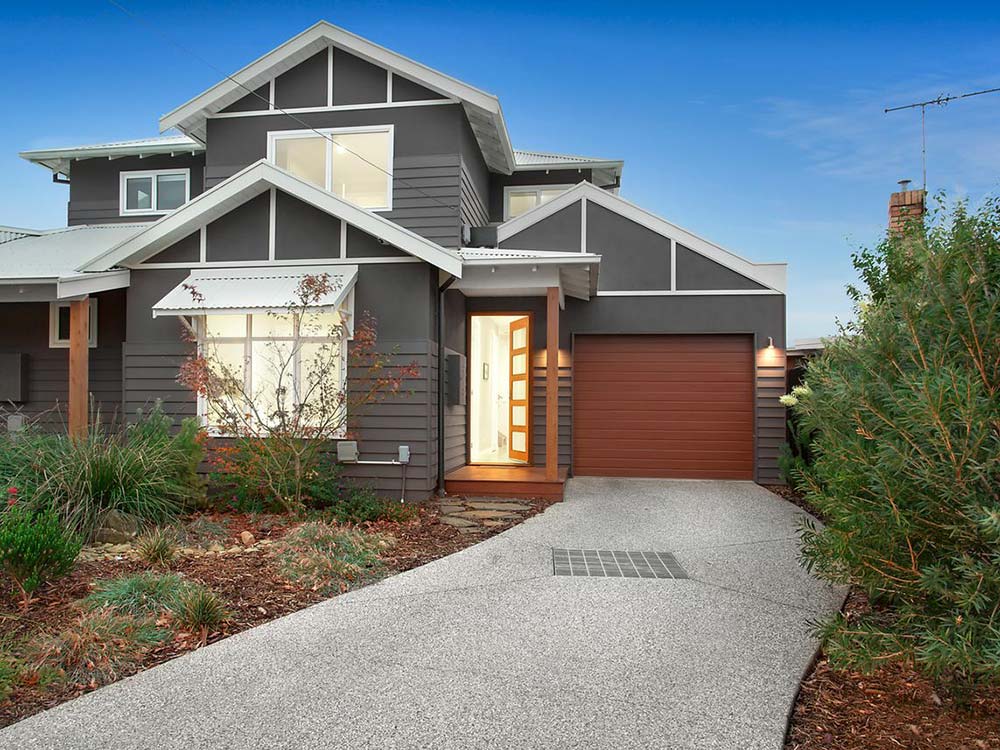 Seen above is our design at Ivanhoe where council was concerned about the impact of a duplex so our approved design appeared as one home from the street, while still filling the functional roles of two units. Rudy, the builder stepped up and exceeded our client's expectations.
So what kind of profits can be achieved in the current market conditions?
This depends on a number of factors but if you follow our recipe of an astute purchase, clever design and speedy, cost effective construction then we see a way that you can make over 30-40% in a two year period calculated conservatively assuming a market of very low price growth. If price growth is at least modest or better then these profits should rise dramatically. One of the beauties of development is that the strategy is in essence to escalate the value of a given property; this means you can make good money even in a receding market. Therefore, development in some ways is a far safer investment than most other market sensitive options. Developing is somewhat "market proofing" any investment if done well.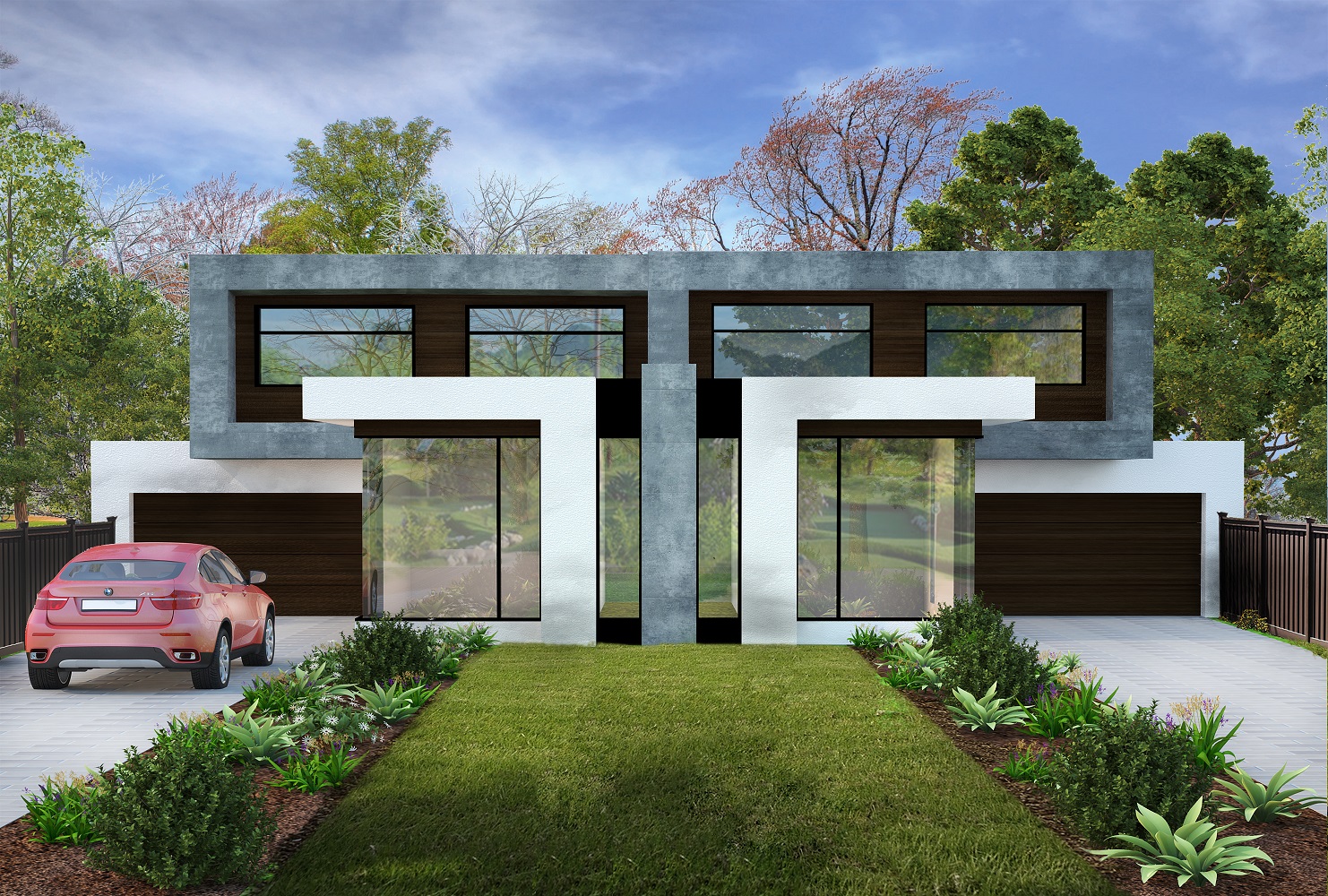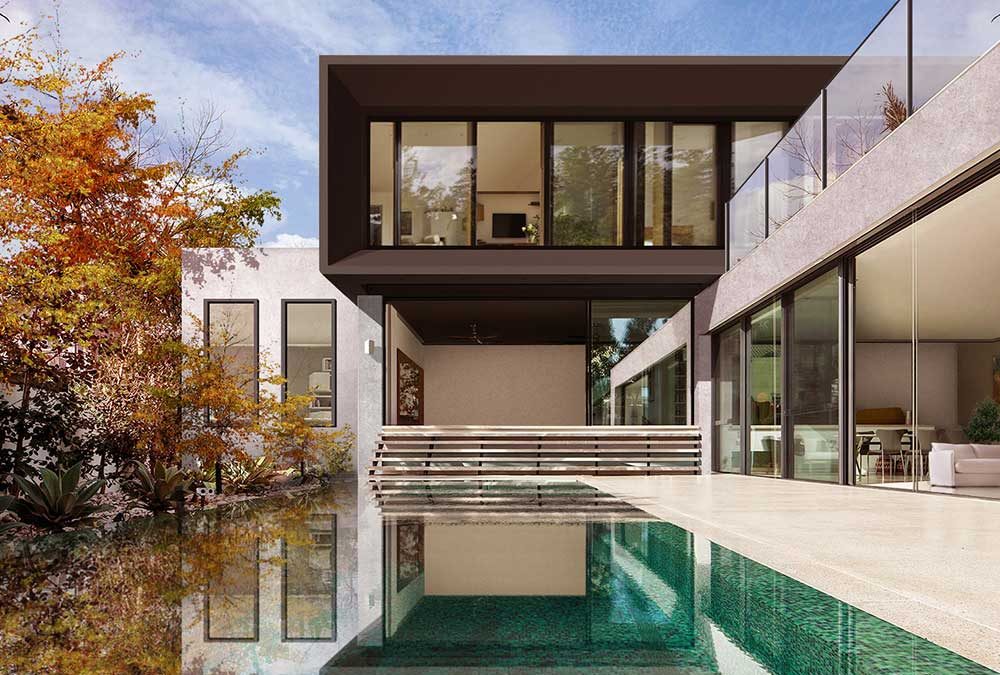 Luxuries such as pools and lifts could be included in high end development as profits can sometimes help with affordability
Our Development Made Easy Service is offered to clients looking to develop for the first time or who are busy with their "day job" but wish to invest in a good, safe but high yielding strategy. We offer to "Project Manage" their development going well beyond "the call of duty" to ensure the highest yield possible. We structure our fees as a small percentage of the final profits motivating us to act in your interests as if we were the ones investing. Our hope is that we can value add to any development more than the cost of our fees. We are not offering any innovative "get rich quick scheme" rather we follow the simple recipe but execute in a very clever manner from buying astutely "off-market", to designing simple and most appropriately, to accessing our network of consultants at "builder's rates & time frames", to building cheaply but handsomely in the quickest time possible.
Development can also be used by prospective property owners as a method of obtaining property including creating your family home for significantly less. Over the years we have helped a number of our clients with "Having your cake and eating it too" options where they have profited by obtaining their family home at a fraction of it's actual retail price.
Joint ventures are a way people not wanting to add to their mortgage can develop using their equity rather than their finances. The Cheltenham units just completed are an example where we offered an improved living environment to someone who could not really afford it. This win/win EQUITY SHARE solution allowed Andrew (the owner) the chance to live in a NEW 6 star HOUSE replacing his old, too cold, too small house with a modern Town House at NO MONETARY COST TO HIM. We built two town houses, keeping one as payment. We will also pay him a significant cash bonus with the exact amount dependent on the final sales result. This profit share arrangement enables us to further reward the owner based on the final sale price. Our New for Old Changeover option is the simplest of these options and suits anyone who loves their address but loathes their current living conditions and does not feel it is worth the cost to rennovate.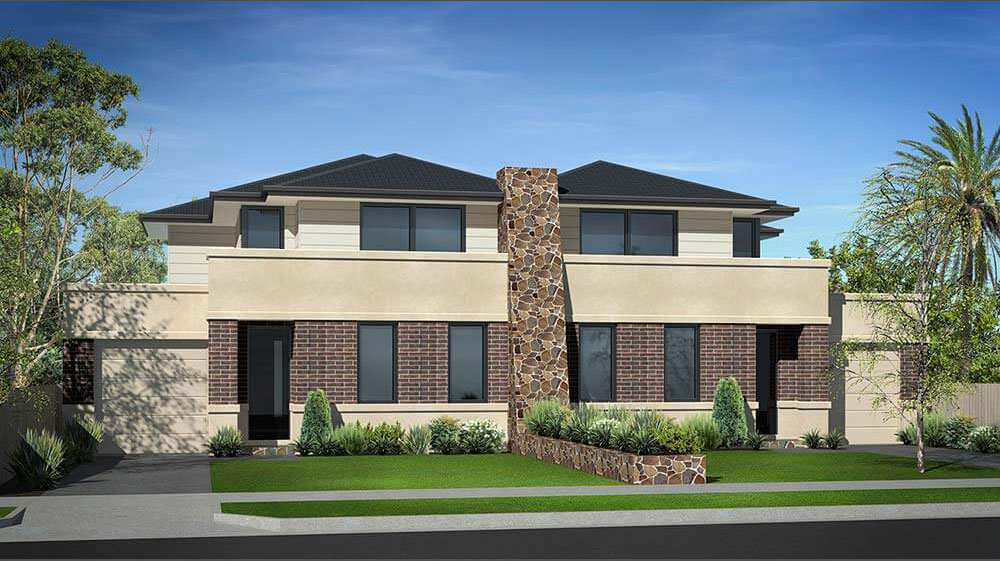 Below are two units built in Murrumbeena for the owners at no monetary cost. The builder built these two and kept one as payment. A significant sum was also given to the owners as a bonus