Duplex House
Dual occupancy development is the most common and most well received type of unit development in metropolitan Melbourne.
Over the years many of our clients have profited from unit development, each in their own way based on their particular aims and aspirations. A number of times we have set up "have your cake and eat it too" situations where a client's family home has been created through a Duplex house size SIDE by SIDE development. Projects like the Ivanhoe units or the Murrumbeena units or the Murrumbeena Joint Venture are differing examples of successful dual occupancy projects that dramatically improved our client's financial and lifestyle situation.
The cost of any development depends on what you currently have and what you actually need or want. The cost can vary from over one million dollars to actually NO MONETARY COST at all. In fact, House Design Solutions can offer some options that will involve us paying you a considerable monetary sum sharing your equity instead of requiring payment. 

Regarding costs… let us assume you have the land and you want to build a Duplex SIDE by SIDE two family home development of 3 or 4 bedrooms. With developments, there are some costs and obligations beyond regular building costs and we call these "Development Type Costs". Some of the bigger volume builders will conceal fees and costs but the aim of this article is to arm you with all the real information so you can make informed decisions. Regarding finish, we can only foresee the need for either a "good finish" or a "high end finish" as the lower end finishes do not seem to do this type of project justice. Luxuries such as swimming pools and lifts should be considered in any high end finish given they often pay for themselves in re-sale value.
Dual Occupancy Price List
On your site the real costs for a two story DUPLEX type development are as listed below in simple terms. These numbers have been updated to reflect 2020 costs…..
Development Type Costs needed for any dual occupancy project is $80-120k plus:
3 bedroom DUPLEXs x 2 smaller with good finish, $690k-820k, or
3 bedroom DUPLEXs x 2 smaller with higher end finish, $820k-930k, or
4 bedroom DUPLEXs x 2 larger with good finish, $850k-990k, or
4 bedroom DUPLEXs x 2 larger with higher end finish, $990k-1.2m.

Building a Duplex
Joint venture options can really suit people not wanting to add to their mortgage. The Cheltenham units currently under construction are an example where we offered an improved living environment to someone who could not really afford it. This win/win situation allowed Andrew (the owner) the chance to live in a NEW 6 star HOUSE replacing his old, too cold, too small house with a modern Town House at NO MONETARY COST TO HIM. We are building two town houses and keeping one as payment. We will also pay him a significant cash bonus with the exact amount dependant on the final results of the forthcoming auction. This profit share arrangement enables us to further reward the owner based on the final sale price.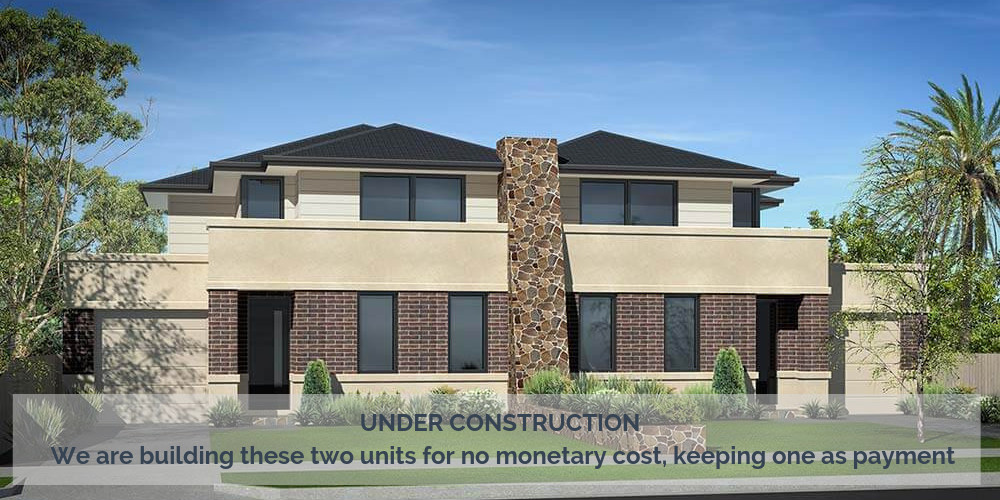 Below are two units built in Murrumbeena for the owners at no monetary cost.
The builder built these two and kept one as payment. A significant sum was also given to the owners as a bonus.