In our 30 years of practice we have found this is the question people have agonised over the most! Often they love their address but loath their current living conditions. How do they improve it?
There is no simple answer when it comes to deciding what is the best way to TRANSFORM your HOME.
It is surprising how many people make these important decisions, deleting possibilities without all the facts. Regretfully, over the years we have helped a lot of our clients undo poor decisions. Also there have been times when rectification is impossible and the clients are regretful they had not consulted us earlier.
For most people the family home is the largest investment they will make so getting it right is very important. An unbiased expert is a very good starting point. By "unbiased" we mean an expert that covers all aspects of house design & development. There is no point you asking an extension builder or a real estate agent which option you should choose as they are weighted towards a certain answer. Even if they answer honestly and credibly their natural bias is towards what they happen to know best.
House Design Solutions offers a RENOVATE or DETONATE REPORT which will take all factors into account offering unbiased, expert advice on your best few options moving forward based on your requirements and your site constraints and attributes. This gives you the chance to weigh up which of those options best serves your particular needs. This comprehensive report will offer up multiple options in each category specific to your site and your circumstances, evaluating the best solutions in detail and putting an expected price tag on each real option.
Renovation and extension
The cost of this type of work is higher per m2 than a new build and much harder to estimate. We have found once you "open the can of worms" there is a danger extra costs can arise. Having said that, If your house has a "high retention value" or if your house does not need a large percentage of works to achieve your goals then this could well be your best option. Obviously a clever design can make all the difference lowering construction costs whilst elevating the final result.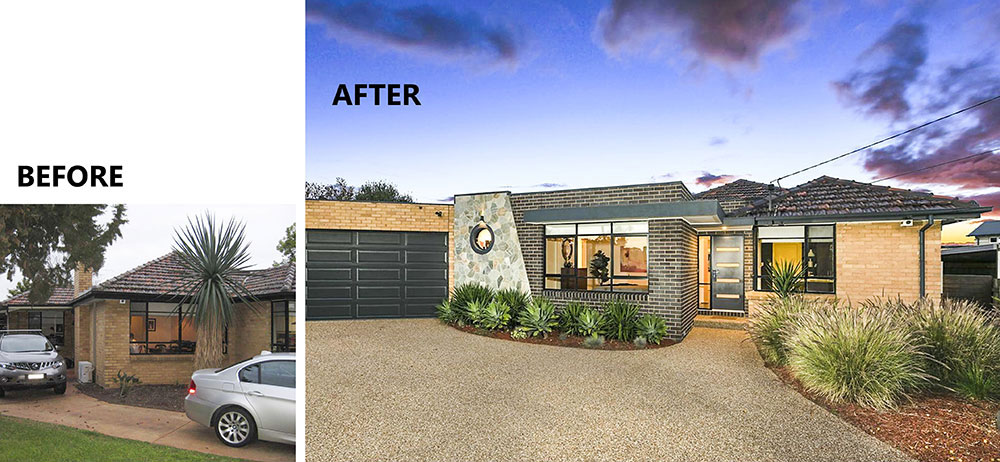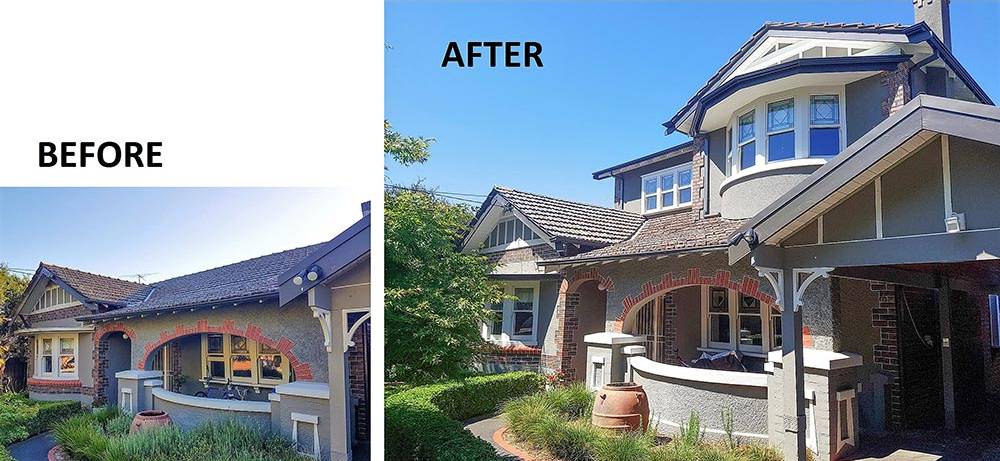 Knock down and rebuild a new home
This option requires a significant investment as you need to go backwards in order to move forwards. If your existing house's retention value is low or you require significantly more space then there gets to a point where it is better to knock down and rebuild. It may not actually be the cheaper option but we feel as you approach parity in cost comparisons between the options, the superior end result of a new home should justify the extra money. A brand new 6 star energy rated home will be the best result and far superior to an extended old house unless there are heritage considerations. A new home will save on energy bills and maintenance costs over the next few years which combined with the higher comfort levels will justify the extra investment in new.
Unit Development options
Although most people think that this option is not for them, we have pleasantly surprised many of our clients with "have your cake and eat it" two family home options where the second dwelling created can fund their family home rebuild profiting whilst raising their living conditions.
The Ivanhoe couple or the Cheltenham client are examples where we offered unbiased alternatives that changed their lives for the better both from a home perspective and financially.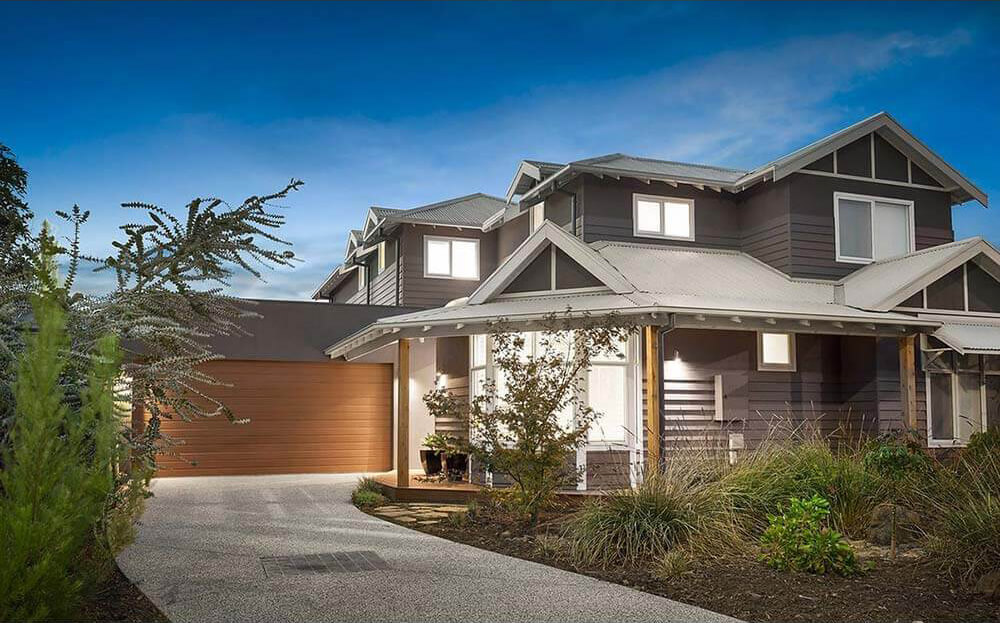 In their own words…
My partner and I bought an old home with intentions to extend, retaining only the front facade. We looked online for an architect and came across Paul Mete at House Design Solutions.
Paul was happy to visit our home and we shared our idea with him. Having also spoken to a few builders, my partner and I were aware of the huge cost involved in achieving our desired extension. Thankfully, Paul thinks outside the box and proposed the idea of dual occupancy. This concept never even crossed our minds. Paul told us our land was just the right size and made us see the financial benefit. We did our own research and quickly realised the decision was an easy one.
We were incredibly impressed by Paul's creativity and ability to design a solution that met all our needs. Paul addressed any concerns we had regarding the design with detailed justification. We soon learnt everything in Paul's design was carefully considered and we trusted in the process.
Our builder was very happy with Paul's drawings and we were all happy with the finished result. Today we are financially ahead and forever grateful to Paul for his suggestion to build dual occupancy. We wouldn't hesitate to recommend Paul to all our friends.
Below is the project in Cheltenham where we met with a client that really could not afford to update his home. This became apparent during our meeting and as an alternate possibility we suggested a JOINT VENTURE OPTION where we build two houses and keep one as payment. This arrangement funded his home transformation by allowing him to pay with equity rather than stretching his finances. Andrew got the home transformation he dreamed of but not the way he initially thought.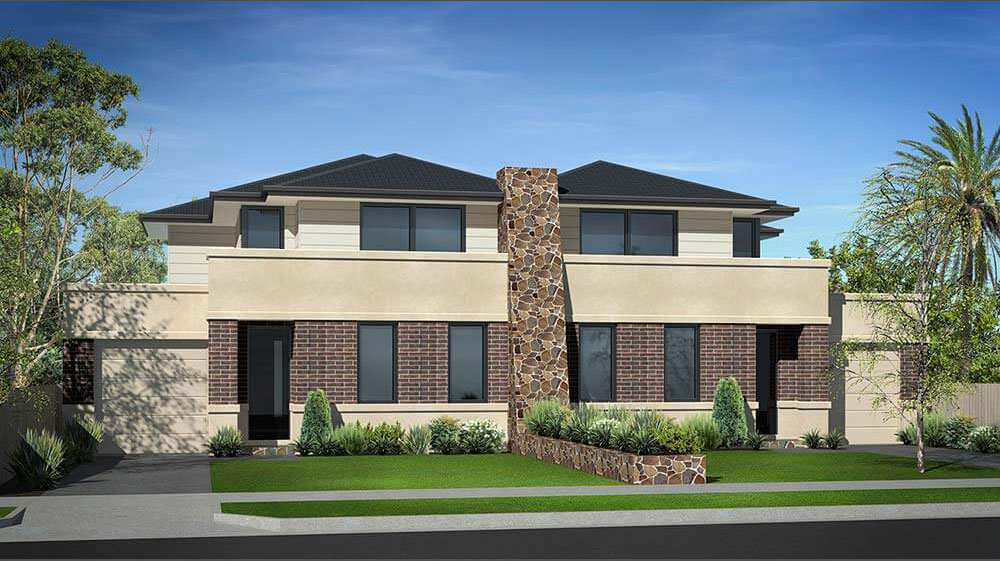 The question of whether to renovate or detonate is not an easy one to answer and we feel a case by case unbiased assessment is worth the investment on your family's biggest asset.
Our renovate or detonate report is a vital starting point for anyone who is not sure how to proceed forward with their home transformation. Over the years the report findings have proven to be a windfall for many of our clients who have been steered in the right direction after initially not fully understanding all their options. We have added massively to many of our clients financial situation whilst transforming their home simply by suggesting solutions they never thought possible or had never contemplated.
We urge all home owners who love their address but dislike their house to consider this informative report as a starting point. House Design Solutions offer this report at a surprisingly affordable price in order to help people who are questioning what to do next.