If you love your current address but loath your house you may be considering renovating and extending. For most people their family home is their biggest asset so it is important that you take the right steps to ensure you get the most value from any improvements. We have 5 important tips for you that will ensure a successful house extension in Melbourne.
1.Decide which type of Development most serves your needs. Renovate or Detonate.
It may feel like you have already made this decision but you should ask yourself if you have taken all factors into account and fully considered all possible options. It is important to seek unbiased expert advice at this early stage. Unlike an extension company or a new home builder, House Design Solutions specialises in ALL aspects of House Design in Melbourne so we can offer unbiased insights into all your possible options based on your particular needs.
As testified by many of our past clients we have often expanded what was thought possible raising options that were previously not considered that have changed people's lives for the better. The Cheltenham guy or the Northcote clients are examples where we dramatically improved our client's situation through holistic unbiased expert advice on ALL their possibilities. Mike from Templestowe and the Ivanhoe couple have both shared on our testimonial page (via Google reviews) their amazing experiences of being led by us down a far more lucrative direction.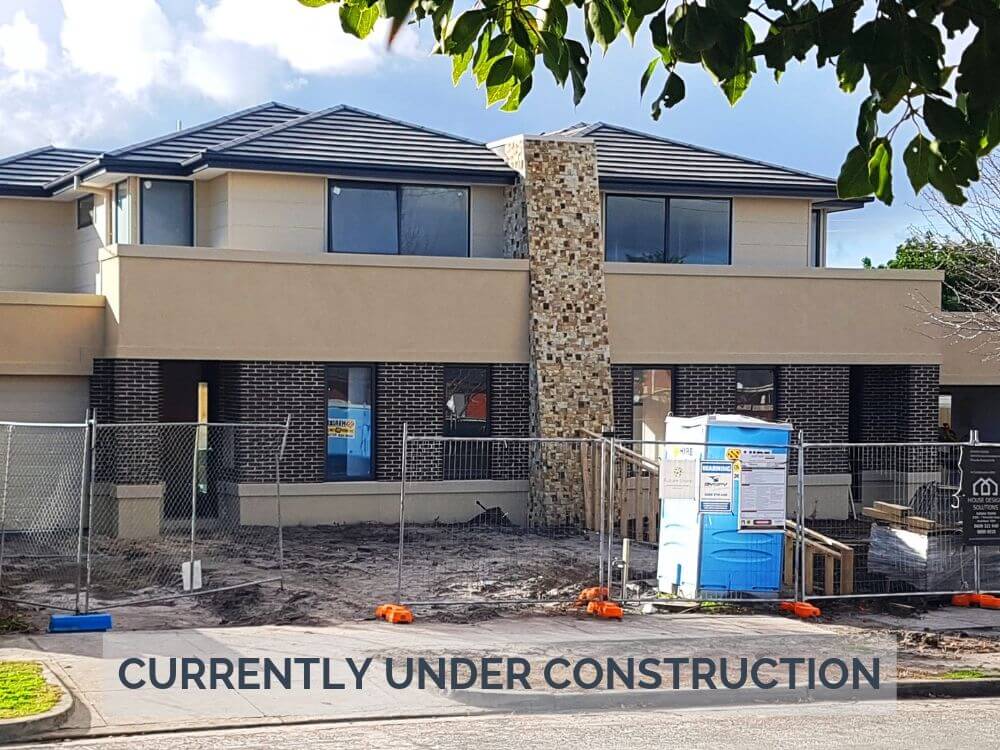 Above is our Cheltenham Joint Venture Development where we were initially approached by a client for a house extension that he could not really afford. Thinking "outside of the box" we offered to build him a new home at no further monetary cost through a clever equity share partnership arrangement that created a win / win situation. He will even receive a substantial payout as a bonus. For some, a two house Joint Venture Development may prove a better option "having their cake and eating it too".
Below is our Ivanhoe Side by Side duplex design for the Ivanhoe couple who originally approached us for a house extension. We expanded their possibilities by making an "out of left field" suggestion to build two houses proving far more lucrative and better serving of their particular needs.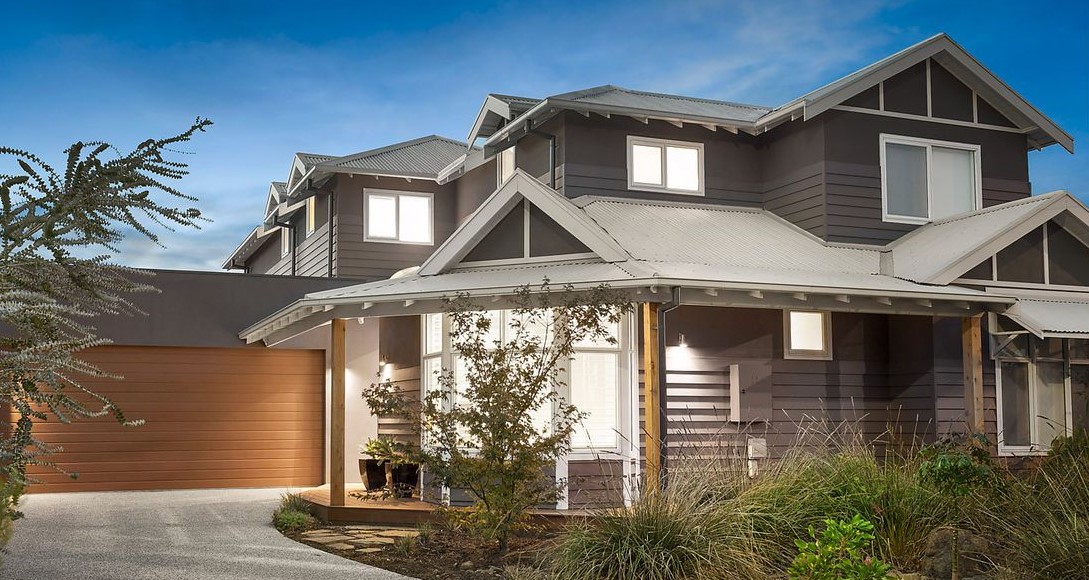 2. Consider what shape the house extension should take.
Now that you are certain that a house extension and renovation is your best choice, the next step is to decide whether to extend up or out, front, side or rear. An expert architectural assessment of the site and your house should provide these answers. The value of a sizeable backyard is ever increasing so any design should aim for the largest and most usable rear yard possible.
The simple answer to extend out towards the rear is not always the best answer as choosing the slightly more costly option of an upper floor extension should payoff given the value of a sizable backyard. The extra costs to go up may be considered akin to purchasing backyard for your family and as an investment for the future ever increasing re-sale rewards. A sideways extension may utilize land on your site considered less valuable ensuring the rear yard is preserved. Don't discard this space as an expert house design solution should resolve these kinds of issues.
Reconfiguring the living and kitchen spaces to access north windows will improve the winter sun penetration lightening up and warming a previously dark home. A well working zoned living layout should also be incorporated. Also, it makes sense to build house extensions at the front where they can be seen so the new works can double as a facelift in a cost effective manner.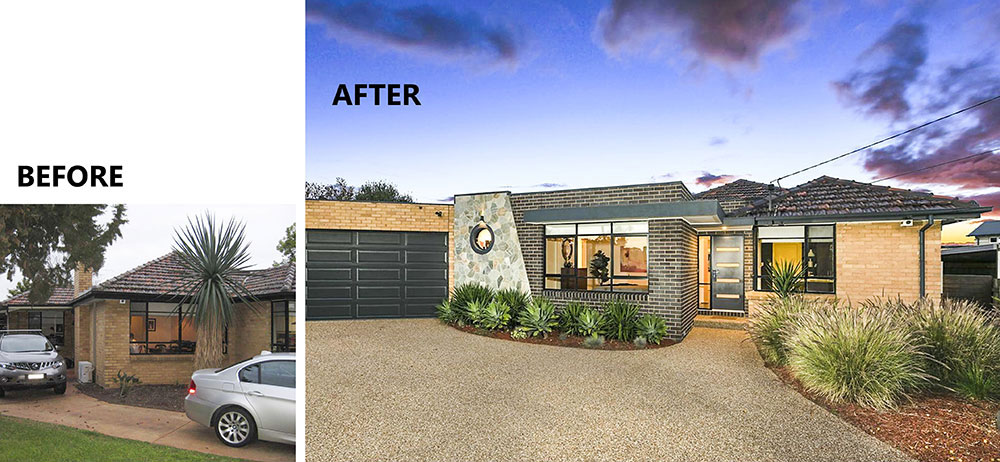 3. Budget is an important consideration for a house extension.
Just as important is what you get for your money. We have seen a lot of cheap extensions cost their owners in various ways. Poor choices, poor workmanship and bad design can send the value of your home backwards. At House Design Solutions we value your money and design architectural responses that add long term value to our client's home. We often aim to "kill two birds with the one stone" in any design response.
For example, an extension at the front not only adds much needed space but it should modernise a façade and may be utilised to fence in a backyard behind it as a tertiary bonus.  Good design should ensure improvements are both economical and capitalising.
4. Decide whether you are moving out or whether the build takes place around you.
Builders will reward clients for moving out and offering a vacant site with the size of such discounts depending on the type of house extension/renovation proposed. Of course there is often a cost to finding alternative accommodation so you should weigh up your options and any favours you can call on. An overseas trip timed perfectly for the most invasive portion of the works may be a great idea. Of course this timing depends on the reliability and professionalism of the chosen builder.
Health implications are important to consider. Whilst asbestos is well understood the dangers that lead presents must be considered, hand washing before meals is paramount on construction sites. The safety of the family pet is also a consideration and a thoughtful builder and his trades will care about the importance of closing the gate. Consider your options and weigh up the benefits of moving before deciding.
5. Choose the right builder.
The right tool for the job, the right crastsman for your particular circumstance. House Design Solutions offers you the choice of either a traditional House Design & Drafting Service or a House Design and Construct Service with an emphasis on design but with the perks of having builder's rates and knowhow. Whichever service you choose we will introduce the most appropriate builder for your particular project. From our network of builders compiled over years of experience we will choose the one whose style and skill set is most suited to you and your project.
The best builders may not be at the top of the tree for marketing or for having the best websites but certainly perform their best work "On-Site". Most builders we introduce for extensions are boutique, "hands on" and personalised, usually skilled tradesmen wearing a tool belt as opposed to a tailored suit belt. During the initial design process it will become obvious which of our experienced craftsmen is best suited to your particular circumstances.
Of course you are free to choose other outside options just be sure they are extension builders experienced at "living with their clients" for a period of time. Extension builders should also be skilled at timing works to limit your home's exposure to the elements. Inexperienced outfits can run into trouble if bad weather hits and they have not planned properly for it.
The best builders are hard to find as they are generally not the ones with that rank highest on a google search. Historically House Design Solutions has been a conduit between the inexperienced client looking for a builder and the skilled craftsman who doesn't advertise or even know what facebook or instagram are. Our testimonial pages are filled with thank you messages relating to our builder recommendations.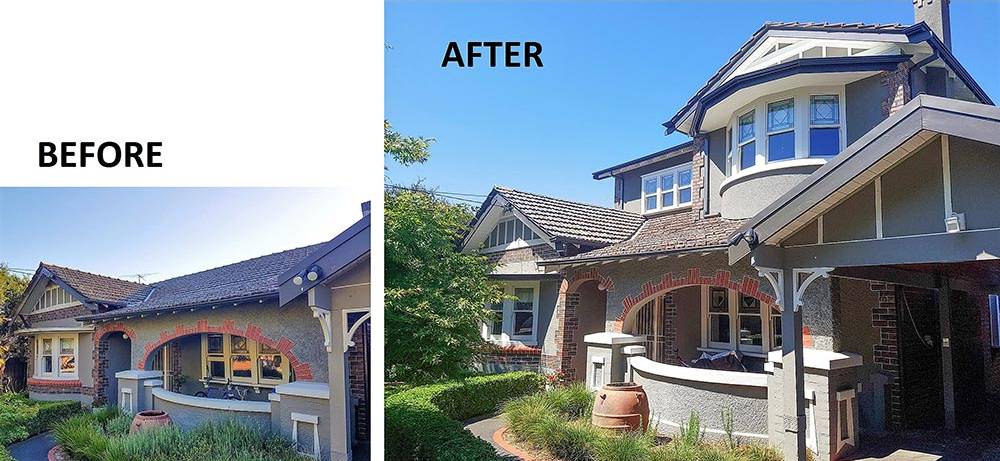 In conclusion, before extending make sure there are not better options for you, get the design right, choose the right builder and your home transformation will be very successful.
House Design Solutions wish you the best of luck!