Do you need more space in your home?
Thinking of extending?
Many people in this scenario face the dilemma of how to extend – should they build up or build out?
The value of back yard space is increasing in Melbourne as homes sold with good rear yard space fetch premium prices. For this reason more and more people are extending upwards instead of outwards. Even though the price of construction is higher for an upper extension this extra expenditure is akin to effectively purchasing yard space.
With years of experience in home renovations and extensions, House Design Solutions are the team to trust for a house expansion in Melbourne. If you are thinking of second storey house extensions in Melbourne, contact us and talk to the extension specialists. Our tried and tested Design and Construct Extension Process is simple and step based, including initial discussions, consultation, designing, documentation and of course the build.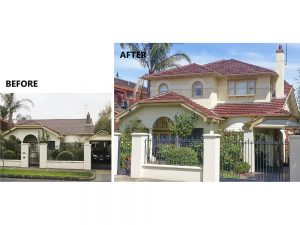 During the free initial discussion, we will research your property, ask you questions, offer advice and let you decide if you want to move forward with us.
If you proceed, for a small fee our experts will then visit your home, analyse available options, discuss requirements and give you an initial ballpark figure of building cost. If you wish to proceed further we will measure up your house, take an in-depth brief from you and produce an initial sketch design. With this initial design, your house extension plan becomes measurable and we are able to provide you a more accurate cost estimate. Only if you're happy with the design and estimate, we will move to the documentation part where final cost and specifications are agreed upon.
We can now transform your home.
Don't tolerate a lack of space. Call the experts today at House Design Solutions and see how we can help transform your home!